It's not every day that we get a chance to experience such an utter perfection unveil itself on screen. Few filmmakers are capable of similar artistic flair and fewer still have the necessary tools at their disposal to support it. Justly so, The Great Beauty, last year's cinematographic revelation, has earned its director, Paolo Sorrentino, a reputation as the next visionary in the long line of Italian film masters, backed up by numerous parallels between his most recent work and the admired legacy of Federico Fellini.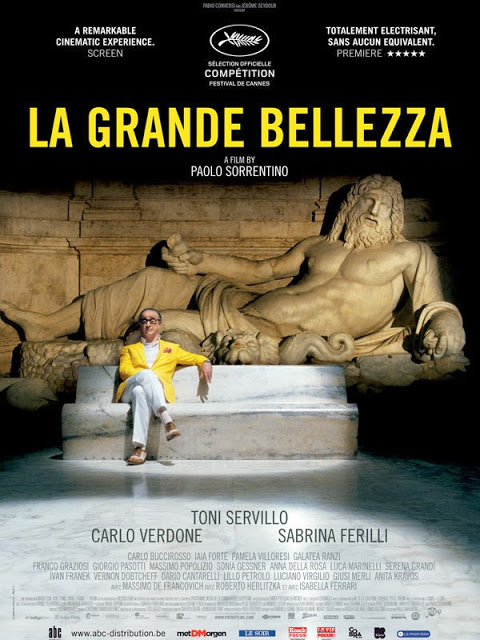 The Great Beauty revives and exceeds the expectations created by The Consequences of Love (2004) and Il Divo (2008), two preceding pictures by Sorrentino featuring the outstanding acting individuality of Toni Servillo – who has become one of the most trusted collaborators and creative influences of the Neapolitan director. In this new effort, the dignified and enigmatic recluse Titta di Girolamo, so masterfully impersonated by Servillo in The Consequences of Love, almost seamlessly morphs into the blasé intellectual and sybaritic socialite Jep Gambardella. At once cynical and sincere, melancholic and joyful, emotional and frigid, Jep is a perfect exemplification of the contemporary homo ludens whose desperate search for content in the world of self-generating simulacra results in a sense of voidness followed by scepticism and apathy.
Set among the monumental ruins of ancient Rome, The Great Beauty is a profound study of modern civilisation plagued by the decadence of art, as well as disgrace of religious institutions, corrosion of authorities and devaluation of love. Gambardella, a 65-year-old affluent writer and journalist, leads a futile existence filled with extravagant parties and highbrow discussions among his eccentric, high-society friends. The vast array of farcical characters populating the screen may give the initial impression that Sorrentino's newest film is just a satirical take on Italian society and its incurable snobbery. But soon enough it reveals itself as a universal treatise on frustrated expectations and loss of innocence pertinent to virtually every corner of the world.
When I came to Rome, at age 26 (…) I fell into the vortex of high society. But I didn't want to simply be a socialite. I wanted to become the king of socialites. And I succeeded. I didn't just want to attend parties. I wanted the power to make them fail, Gambardella admits solemnly while walking along the Tiber after an eventful night. Yet, struck by the news of his adolescent love's demise, and thus increasingly conscious of the inevitable passage of time, he develops a distaste towards his pretentious surroundings and secretly fears that at the end of the day his life may amount to nothing. The most significant discovery I made a few days after turning sixty-five is that I can not waste time doing things I do not want to do, he declares.
The screenplay written by the director in collaboration with Umberto Contarello wonderfully mingles the serious with the risible, while not even for a moment losing focus, rhythm or dramatic consistence. But it's the magnificent performance of Servillo, whose extraordinary vis cómica is perfectly counterbalanced by his naturally melancholic disposition, that ultimately binds all the elements. There is a kind of wistfulness in his character that brings to mind protagonists of the great 20th century narratives by Thomas Mann and Alberto Moravia, the latter of whom happens to be mentioned in the film. One could even go further and call Paolo Sorrentino a contemporary directorial counterpart of those two literary giants.
The delicate tissue of the script, woven from fleeting impressions rather than concrete events, has its ideal complement in the sumptuous cinematography by Luca Bigazzi. The Great Beauty is a true feast for the eye, rich in painterly details and opulent colours. With this excellent work, Bigazzi, already widely recognised for his exceptional visual sensitivity, proves his stature as a true camera wizard whose one single frame is worth much more than many a collection of art.
What catches the viewer's attention immediately during the film's opening sequence is the impressive quality of crowd scenes. Wonderfully lush and dynamic, they are composed with painstaking attention to detail. The giddy figures populating the screen are orchestrated with such absolute precision that they seem totally devoid of individuality, unconditionally obedient to potent mass impulses. The truly mesmerising effect that this pulsating world in constant transformation has on the spectator can be compared with the impact of the huge mobile sets devised by the Hollywood master Baz Luhrmann.
The film's visual artistry is on a par with the excellent soundtrack comprising of both throbbing dance pieces by contemporary pop artists and subtle classical works by such acclaimed composers as Henryk Górecki, David Lang, Arvo Pärt and Zbigniew Preisner. Gregorian chants clashing with frenetic dance beats create an aural landscape of today's Rome, the Eternal City in which the ancient art of harmony and proportion exists alongside confusion and chaos.
It won't be an exaggeration to say that Sorrentino's work is a true masterpiece of 21st century European cinema. No one so far has responded to the spiritual vacuum of the modern world in such a conclusive and breathtaking manner. The film's protagonist, surrounded by the incessant clamour of pointless disputes and self-indulgent lifestyles, yearns for the essence of life and misses it. I was looking for the great beauty, but… didn't find it, he reveals in response to Santa's question about why he had never written another book. What remains for him is a hollow existence filled with meaningless buzz drowning out every single feeling or emotion. Occasionally, in the midst of it all, "haggard flashes of beauty", imaginary or real ones, heave into view. Then comes a rare moment of "silence, feeling, emotion and fear" and a new novel begins. But that's "just a trick" devised to detach the hopeless human from his own misery. As is the case with this very film – so ethereal and sublime, it feels like a dream that you don't ever want to end.
©Tracks & Frames, 2014