No feeling compares to the excitement of discovering a new outstanding band. Especially if it happens in a live context, and you are caught unprepared, wide-eyed and stupefied by the stage of the venue where you came to see another outfit, yet it didn't stand confrontation with the sheer miracle you have just had an opportunity to witness. Unable to even move, you are planted there with a huge grin on your face, marvelling at this most welcome stroke of serendipity. So it is still possible. Bands capable of fulfilling your musical cravings and pushing all your secret buttons all at once really do exist. You can't believe your luck. You are in love.
The above is a more or less accurate description of my state of mind on that memorable evening of May 19th, 2018. The events in question unfolded at New River Studios in London. The band responsible for my bewilderment was Grey Hairs, the tightest unit I had seen live in a very long time. Within an hour long performance they managed to erect a wall of awe-inducing sound, producing potent vibrations in every sentient fibre of my body. It was a mighty solid wall, for that matter, built on foundations of excellent influences which at one point shaped my own musical taste. Nirvana, Fugazi, Wipers, The Breeders, Scratch Acid, B-52s – fascination with those formations rings clearly in Grey Hairs' output without ever overshadowing their artistic individuality.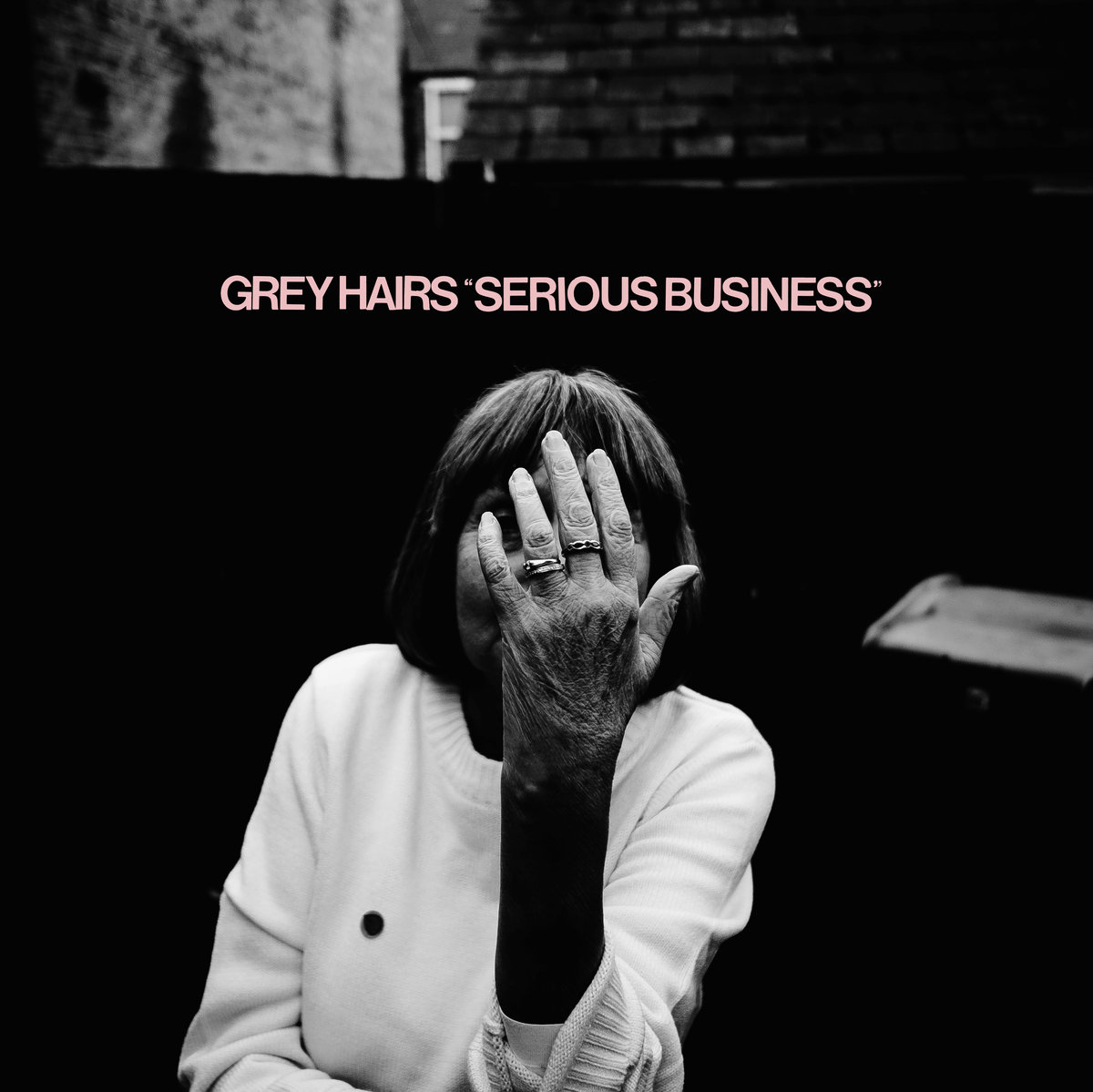 They are Chris, James, Dave and Amy. According to the official info, they boast, indeed, some grey hairs, as well as bad backs and full bladders. They hail from Nottingham and have so far published two full length albums. With the third opus already looming on the horizon, it is high time to give its due to the second LP, Serious Business, released nearly two years ago, in January 2017, on Gringo Records. The title is very ape… er, sorry… apt, because Grey Hairs are a very serious band. Except, as you might have anticipated, when they are not.
The new record affirms and far surpasses impressions created by the group's previous offering, Colossal Downer. It is now beyond any doubt that they are a remarkable bunch of musicians whose alliance brings the best out of each of them. While Chris provides gnarly, high-octane guitar riffs worthy of the most notorious grunge acts and (to my immense pleasure) clearly pointing to his admiration for Kurt Cobain, Dave and Amy form a wickedly robust rhythm section and James spices it all up with enthralling, warped vocals emitted with intensity and urgency of The Stooges' Iggy Pop, who evidently figures, as well, in the catalogue of the band's pivotal inspirations.
You can't put your finger on them. In the manner of musical chameleons, they expertly change skin, smoothly quoting from their favourite sources and just as swiftly changing musical gears, each time touching the exact right chord to evoke in the listener a deep feeling of aesthetic affinity. Their love and passion for music are almost tangible, as is the excitement of making glorious noise in tribute to their youth, which, although perhaps physically gone, seems to have transcended time and keeps revealing itself in their untamed creative energy exuded both on stage and in the studio. For, to paint an accurate picture of their musical prowess, it can't be stressed enough that the impact they produce on record is multiplied in a live situation, when they give you the show of your life, going like a steam train, gaining momentum and considerably accelerating your pulse before you find yourself completely bedazzled and eventually realise that you have been put under an irreversible spell.
In the lyrical domain, Serious Business is a collection of deftly versified middle-age frustrations, dilemmas and complaints stemming from the bleak reality of the modern world. Man is a Kitchen, a raspy and screechy lout chant, makes for a stellar example of the band's self-deprecating humour. As James once suggested in an interview, it is a culinary metaphor about "feeling capable" ("Hey… What did you do to it? Do we still have the time to start it in the oven??/I cannot taste, I cannot./Meat takes time"). Sausage touches upon somewhat less pressing but nonetheless vital philosophical questions. Featuring chiming strings and a dense chorus, it takes over where Man is a Kitchen has finished, threading from the subject of masculine virility towards the grand theme of human existence and its inherently circular nature ("Pay no mind to the march of time: Keep it still/Head down/The supposition gets me down/The supplication/A shitty trip/Makes me kneel/I thought it was a line/But it's a circle").
James's exquisite vocals, up to par with his songwriting skills, make for an instrument in its own right. On this album, they ultimately receive due exposure, which seemed somewhat insufficient on Colossal Downer, reportedly as a result of a hasty recording process. Forming a supreme combo with Chris's guitar, James's voice is the beating heart of this record, incessantly pumping oxygenated blood into the band's system. Beside Sausage, it is especially apparent in 2.36 AM, a killer hardcore number founded on Chris's appreciation of Greg Sage's musical genius. Another example is Backwards, which advances slowly yet steady, like a well-oiled machine, only to suddenly erupt into an intense, desperate chorus. However, it is Pat Was Right, a furious piece alternating heavy rumbles with delightful, echoing jangles and some very satisfying distortion, where James's vocals seem to reach their full potential.
On the other hand, On and Off, preceding the playfully B-52s-esque Misophonic, is a demonstration of sheer instrumental glory tapping into the best industrial traditions of Krautrock. Recalling a collective freak trip, it lets both the band and the audience rejoice in perfect hypnosis. As does the previously mentioned Sausage (my favourite track on the album), which expertly reflects the lyrical subject matter in its clenching, almost physically oppressive, mantric composition. The third to last, Red Paint, a slower, meditative piece contrasting subtle guitar work with heavy feedback and ponderous, humming lines towards the end, helps to ultimately discharge the record's tension, paving the way for The Chin (Part 1) and The Chin (Part 2), which jointly make for an ideal closer of the album. Beginning with a mechanical enumeration of disjointed bits and pieces forming the fabric of life, the two-fold track gradually progresses into a full-blown riot song performed by the badass Amy screaming her lungs out in an unrivalled impersonation of Courtney Love.
If Serious Business can serve as an evidence of what greying of your barnet actually does to you, it may be a surprisingly enviable state of affairs. Justly frustrated and angry, yet invariably sharp and to the point, Grey Hairs, still proudly carrying the torch of the 80s'/90s' subversive spirit, are the most youthful band of middle-aged grumps you may ever get a chance to meet. Bluntly speaking, they kick ass. Hardly able to wait for mine to get kicked again, I'm all itching to put my hands on their new album and see them play again in its support. Uncompromising and unpredictable, they are every grunge kid's dream come true. Whatever they hide up their sleeves, it is bound to be wild and, most likely, hard to classify. So keep a watchful eye on this cranky bunch of overgrown brats – they really don't make them like this anymore.
©Anna Bajor, Tracks & Frames, 2018