The film awards season has just come to an end. It was an exceptionally fruitful cinematic year, rich in productions satisfying even the most refined tastes. Films by younger talented directors, like Spike Jonze and Steve McQueen (both born in 1969), competed for our attention with works of venerated masters, such as Martin Scorsese and Jim Jarmusch. Virtually every week within the last three months marked a noteworthy release. Now the time has come to choose our personal favourites.
Based on the criterium of artistic impact or, to put it in other words, on my deep conviction that a significant subject presented in an original or aesthetically appealing form deserves a recognition, the list of my preferences consists of four titles: 12 Years a Slave, Dallas Buyers Club, Her and Only Lovers Left Alive. Each of these films represents a different style of expression, yet they all bring into perspective a burning problem or a refreshing idea, what guarantees them appreciation of cinema lovers for generations to come.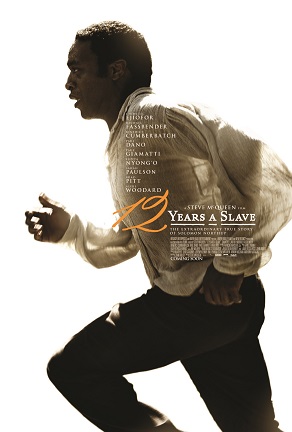 Steve McQueen's newest achievement 12 Years A Slave is an epic picture based on the autobiographical narrative of the same title by Solomon Northup, a free black man born in the state of New York, kidnapped and sold to slavery in the 19th century Louisiana. The script, adapted from the memoir by John Ridley, has a tremendous dramatic power. Its strength lies in the profound psychological portrait of an educated and respectable member of the society who becomes brutally stripped from his dignity and forced to grueling labour on the Southern plantations. Treated worse than a draught animal and subject to refined punishments for imaginary offences, he desperately tries to prove his value through dedicated work, and when his efforts don't result in anything bar further abuse, he puts his life at risk in the ultimate hope to make contact with his friends in the civilised East.
The cast, including Chiwetel Ejiofor in the part of Solomon, Lupita Nyong'o as the young slave Patsey and Michael Fassbender in the role of the cruel land owner Edwin Epps, form one of the most extraordinary ensembles ever present on screen. Amazingly responsive and sensitive to one another, the actors seem linked by an invisible thread as they create an organic microcosmos in which every gesture or action is relevant and highly consequential. Truly impressive is also the cinematography by Sean Bobbitt. The indescribable natural beauty of the American South clashes with the imagery of appalling cruelty and abuse. These two elements compose an evocative scenery of oppression projected on the meticulously recreated countryside of Luisiana in the years directly preceding the abolition.
12 Years a Slave is undoubtedly an important and extremely needed film on the shameful and largely ignored episode in the history of humanity. To quote the director himself: There's been a kind of amnesia, or not wanting to focus on this, because of it being so painful. (…) We can deal with the second world war and the Holocaust and so forth and what not, but this side of history, maybe because it was so hideous, people just do not want to see. People do not want to engage. (…) It's almost like the film has given people a platform. It's been amazing. The film has evoked a conversation about that time in history that I don't think has happened for a long, long time. It's been incredible. (Steve McQueen, My Hidden Shame, [in:] The Guardian, Saturday 4 January 2014)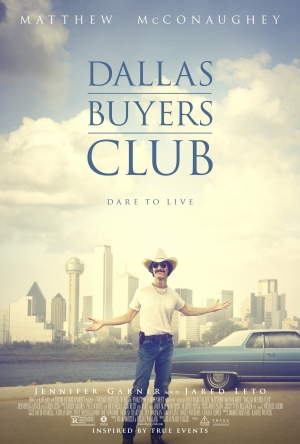 Equally engaging and noteworthy is Dallas Buyers Club, a picture by the Canadian director Jean-Marc Vallée. Another biographical drama (although this time the action takes place in the modern world), it tells the story of a homophobic rodeo cowboy Ron Woodroof diagnosed with AIDS in the mid 80s. Having discovered how little time he has left and faced with limited and inefficient methods of medical care due to the FDA blockage of life-saving but not yet approved substances, he engages in a risky procedure of drug import from Mexico. Vallée's film effectively addresses the controversial subject of financial interests in the pharmaceutical industry which frequently prevail over human life at stake. It is all the more valuable and significant as it simultaneously touches at the problem of macho and homophobic attitudes which are often corrected only in the face of death. As it is the case with Woodroof himself who, having found an ally in the transgender HIV-positive Rayon, gradually abandons his prejudices and becomes a social activist determined to help the local queer community suffering from the lethal virus.
Matthew McConaughey in the leading role exceeds all the expectations. The actor brilliantly interprets his character's transformation from a provincial xenophobe into a sensitive man capable of forming a friendship with a fellow human being regardless of his/her sexual orientation. Not less impressive is McConaughey's screen partner Jared Leto, superbly depicting the emotional tribulations of a young trans woman who, unable to identify with her biological gender and thus rejected by her own father, tries to ease her loneliness and pain with help of drugs.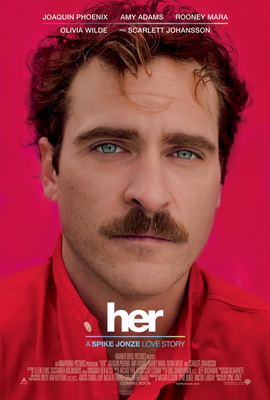 While 12 Years a Slave accounts distant historical events and Dallas Buyers Club is set in the relatively recent past, Her, the newest work of Spike Jonze, the director of Being John Malkovich, looks into the future. The script written by Jonze himself tells the story of a man dating his operating system. At first, it may sound like a joke but is it really that ridiculous? Frighteningly enough, in the era of social media, Siri and Google glasses, the perspective of forming a close relationship with a computer doesn't seem all that absurd. Joaquin Phoenix portraying Theodore Twombly, a lonely introvert working for a company specialised in writing heartfelt, personal letters for customers who can't or don't want to take the trouble to do it themselves, proves how difficult it is to resist charms of a computer system that knows and cares for us better than our own mother. Especially if it comes equipped with the seductive voice of Scarlett Johansson and an amazing capacity for improvement in accordance with our requirements.
The importance and originality of Her lies in the extremely accurate diagnosis it makes about the condition of the contemporary human being who, accustomed to the immediacy and simplicity of virtual contacts, tends to prefer them to complex, real-life bonds which involve the need for compromise and tolerance of each other's faults. Contrary to the physical world, in which a glorious vision confronted with the factual state of affairs may lead to severe frustrations, the digital utopia makes us believe that it is possible to form a fulfilling relationship with a virtual persona – that is a mental construct based on our idea of perfection – without the unwanted ballast.
All at once deeply sad and irresistibly funny, the new Jonze's film is a brilliant commentary to the phenomenon of virtual interactivity which, since the beginning of the Internet era, has become the very definition of our lives, utterly blurring the boundaries between reality and imagination. Her addresses the ancient and never resolved question: where does the thin line dividing the alleged status quo from our perception of things lie? What is actually real? Is the concept of reality even valid? Or perhaps we just live a grand illusion, a trick played on us by our own minds?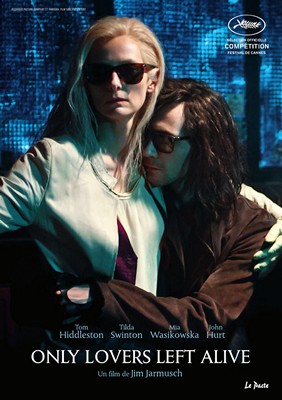 Human condition in the modern world is also the central subject of Only Lovers Left Alive, the newest picture of Jim Jarmusch, the legendary master of the alternative cinema who achieved a cult status and following in the mid 90s with the western pastiche Dead Man. Known from experimenting with various film genres, this time Jarmusch drew inspiration from the convention of vampire drama, fully exploring the ancient archetype. Starring Tilda Swinton and Tom Hiddleston, the film focuses on the broadening gap between the traditional, "analogue" lifestyle led by culturally and intellectually evolved vampires, that is free spirits, and the modern, "digital" way of being exemplified by the so-called zombies, i.e. ordinary, superficial people, whose only purpose in life is to have a good time. What's worth noting, the breeding ground for zombies is LA, which is also referred to as the idea of hell.
The image of the sophisticated, blood-thirsty creatures has been devised with painstaking attention to detail, starting from the olde-worldy pronunciation of the leading actors and finishing on their ethereal, slightly emaciated appearance of tormented souls. Zombies, on the other hand, speak with a sloppy, urban-American accent, dress in a gaudy fashion and have an unreflective, self-satisfied attitude.
Jarmusch is an absolute master of atmosphere. Fond of a slow narrative pace, he builds the mood gradually, allowing each tone to ring out completely and every image to leave an indelible impression. The dialogues are irresistibly witty and rich in smart allusions, providing an infinite source of joy to alternative audiences.
No film connoisseur could resist the enthralling cinematography by Yorick Le Saux. The opening scene in which the whole room spins in rhythm with a vinyl rotating on a turntable is no doubt one of the most impressive and memorable images in the history of cinema. The breath-taking visuals have their audial counterpart in the amazing soundtrack comprising in the most part of minimalist, folk inspired pieces by the outstanding Dutch lute player Jozef van Wissem and of rock compositions by Jim Jarmusch's very own band named SQÜRL.
Wonderfully refined and enthralling, Only Lovers Left Alive is probably the finest Jarmusch's work up to date. Nearly 62 year old now, this always original and inspiring director ultimately proves himself a true master of the craft without losing his unique, youthful perspective, which once gained him the status of the coolest guy in the world of film.
© Anna Bajor-Ciciliati, 2014. Unauthorized use and/or duplication of this material without express and written permission from this blog's author and owner is strictly prohibited. Excerpts and links may be used, provided that full and clear credit is given to Anna Bajor-Ciciliati with appropriate and specific direction to the original content.