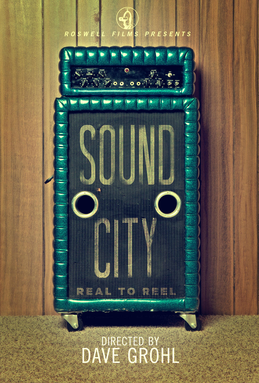 That Dave Grohl, the drummer of Nirvana and frontman of Foo Fighters, is a restless creature is no news. "I am busy but sleep is overrated. You know, I have so much energy and I don't even do drugs. It's honestly all done on coffee," he declares. Well, coffee IS a drug, especially if consumed in large amounts, as Dave had an opportunity to attest in the emergency unit of an LA hospital, where he once ended up with severe chest pains caused by excessive caffeine intake. But that's a topic for another story. The point is that two years ago, Dave – an accomplished musician of international fame – decided to prove himself as director and producer of a musical documentary. And, one must admit, he did a pretty good job at it. Sound City Movie, although not in all perfect, is an engaging, inspiring and entertaining piece of cinema, designed not only for music geeks but for virtually everybody interested in contemporary popular culture.
The decision to make a movie came with an event which marked the end of an era in the music industry. Not able to meet growing technological demands, the legendary Sound City Studios in San Fernando Valley, California were closing down and thus putting on sale Neve 8028, the sound board from Studio A, on which so many seminal albums (including Nirvana's Nevermind) were recorded. Having expressed interest in buying this magnificent piece of rock&roll history long before the Studios' bankruptcy, not only did Dave give it a new home in his brand new studio 606 but also resolved to show the world its glory days.
Although the original intention was to tell the story of that magical place where much of the greatest 20th century music was born, the final result exceeds these expectations. Sound City Movie is a story about the contemporary society in which dedication and passion have been substituted with cult of immediacy and effortlessness. In the past, the path of an aspiring musician wishing to get his message across was dotted with obstacles. The recent technological advance, however, wiped all such limitations out. Today, it is possible to make music in the living room and broadcast it in a split second with a mouse click. No technical skills, practice or talent are needed – a computer makes up for all the faults.
In this new approach to creativity, the importance of social exchange has been dramatically reduced. As it is now possible for a musician to record oneself playing several instruments in a sequence, and then have those takes mixed in a computer, the interaction between people has become superfluous. Yet, it is a fact that the most interesting ideas in the history of rock were born in the process of spontaneous collaboration. Although we may want to pretend it is otherwise, human indeed IS a social creature and music, in most part, is about the chemistry which happens between fellow musicians. To quote Mick Fleetwood from the interview with Grohl: "Yes, you can do this all on your own. But you'll be a much happier human being to do it with other human beings. And I can guarantee you that."
Grohl's cinematographic debut has just one fault which, although not grave, significantly affects the viewer's perception of this otherwise successful endeavour. It is a touch of self-indulgence in the final part of the movie, when the Foo Fighter no. 1 jams in his home studio (now sporting the Neve console) with a string of famous rockers, probably already envisioning the result of this collaboration in form of a special record titled "Dave Grohl and Friends". The trouble is that most of those musical encounters are quite disappointing. Certainly, this is the case with Paul McCartney who joins the remaining members of Nirvana in writing a rock&roll piece Cut me some slack, inspired by Helter Skelter. The effect is questionable, to say the least. But first of all, the whole idea of McCartney's collaboration with the 3/4 of the legendary band – which the ex-Beatle admitted not to have even heard about prior to Grohl's invitation – is somewhat inappropriate. Especially in regard to his role as a vocalist filling in for the deceased Nirvana frontman who, admittedly, thought of The Beatles as a great source of inspiration, but as a self-declared Lennonist, did not hold McCartney in high esteem, disgusted by his arrogant personality. Why McCartney then, of all people? Why not pick David Bowie or Iggy Pop instead? Or Neil Young, for that matter? There are so many excellent artists with full presence of mind and spirit who would be honoured to jam with Nirvana legends without putting on airs. In the movie, there is an example of a such an ideal match. A match made in haven. It is the collaboration of Foo Fighters with Lee Ving of Fear which resulted in a wicked punk tune Your Wife Is Calling. Kurt Cobain would have loved it. And this is the direction Dave Grohl should have followed from the start.
That said, Sound City is a great movie whose main purpose is to inspire people to make music. It doesn't glorify the old, often impractical analogue technology nor does it deny the right of existence to numerous digital tools which have come to dominate the industry. In Grohl's own words: "The intention was to inspire people to fall in love with the human element and the human process of making music. A lot of kids only hear music on their video games. A lot of kids only see singing contests on television. They don't know that you can buy a (lousy) guitar at a garage sale, and sit in your garage with your neighbor and write a song by yourself and suck. And then become the biggest band in the world. It happens that way."
Read more:
http://www.huffingtonpost.co.uk/2013/02/15/dave-grohl-documentary-sound-city-screenings-london_n_2696118.html
http://soundcitystudios.net/sound-city-movie
© Anna Bajor-Ciciliati, 2013. Unauthorized use and/or duplication of this material without express and written permission from this blog's author and owner is strictly prohibited. Excerpts and links may be used, provided that full and clear credit is given to Anna Bajor-Ciciliati with appropriate and specific direction to the original content.