Hello again!
It's been a while since my last post. If some of you wondered why I kept silent for so many weeks, the reason was my long-planned removal to London. Everybody who moved home at least once in their conscious existence knows that it is not a particularly enjoyable experience. On the contrary – however exaggerated it may sound, removals are often compared to the most traumatic life events such as divorce or bereavement. No worries though – I won't bore you with a lengthy description of uncountable tribulations I had to pass through in order to finalize this move. The point is that since the end of August I am no longer an Irish resident. And to be perfectly honest, not only do I not have regrets, but feel quite excited about this change of scenario. Hopefully, it will prove beneficial both to this blog and to my life, providing me with lots of new subjects to think and write about and plenty of motivation for my work which I am lucky enough to call my passion. Now, let's end this slightly oversized introduction and get to the crux of the matter. Which is film news.
Several interesting pictures passed through the UK and Ireland cinemas in the last few months. Coincidentally (or perhaps it's not a coincidence at all, but a cultural trend which may be worth taking a deeper look into) they are all dealing with the issue of individuality, personal choices in life and memory – the unique way in which each of us perceives and processes the present and the past.
Frances Ha by Noah Baumbach, one of the most endearing productions of the last year, is a story about being different and trying to fit in. The climatic black-and-white picture focuses on the character of Frances Halladay, a 27-years-old wanna-be dancer lost in the down-to-earth reality of New York. Brilliantly portrayed by Greta Gerwig (who also co-authored the script), Frances is a total nut-case by the standards of the contemporary society. Her spontaneous, outspoken and dreamy nature puts her in awkward social situations and deters more level-headed people. On the other hand, it is exactly this unique way of Frances that draws to her truly interesting people and makes her so precious in the eyes of her closest friends. Baumbach's film is about individuality, being oneself against the trend of assimilation and consequential standardization. It's about going against the grain, having courage to pursue own dreams and live an individual life according to own ideals. To quote my personal hero Kurt Cobain, Wanting to be someone else is a waste of the person you are. Frances Ha is an excellent illustration of these words.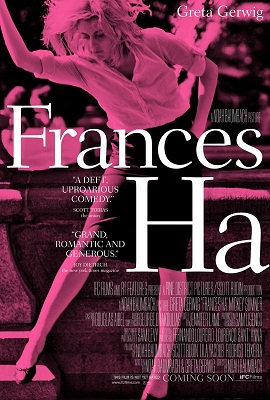 Individuality, free choice and union of similarities are central subjects of another American indie production, Breathe In by Drake Doremus. The story of a forbidden love flourishing between a middle-aged music teacher and a British exchange student takes a sublime shape in the acting of Felicity Jones (Sophie) and Guy Pearce (Keith) splendidly portraying gradual development of an emotional bond which is oblivious to age barriers. Not surprisingly, however, the unique connection between the two is sacrificed on the altar of a family compromise resulting from the feeling of responsibility for the old unfortunate choices. For the reasons utterly impenetrable to me this subtle picture collected many negative reviews from British critics who smashed it for its alleged pretentiousness and snobbism. In my view, however, it is a film of remarkable beauty and intimacy, not even for a moment bordering on bad taste.
Last but not least, I would like to recommend you a Canadian documentary Stories We Tell by the young filmmaker Sarah Polley. Choosing an unusual history of her family for the subject of her work, the director gives all the involved parties a chance to present their own takes on the past events. This traditionally documentarian technique, at the first glance not at all original, brings extremely innovative results as it allows Polley to touch upon the problem of memory and its intricate works, and show us how our individual perception influences the way we describe facts. Initially putting herself at the margin of the story, the director gradually unfolds the family secret in which she plays a key role, to finally emerge on the forefront as the chief narrator fighting for her concept of the film and competing for supremacy with two other protagonists who happen to be writers themselves. The original and often humorous approach to the typical for the genre multiple perspective and a compelling story used as a base of the experiment make this film a thoroughly intelligent and enjoyable entertainment which surely won't be easily forgotten.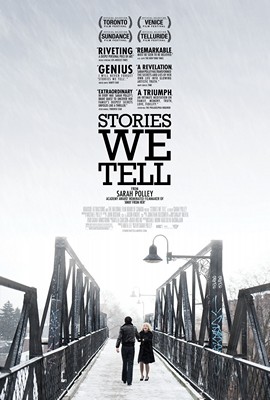 That's all I wanted to share with you today. Stay tuned for more news from the world of a culture geek :).
© Anna Bajor-Ciciliati, 2013. Unauthorized use and/or duplication of this material without express and written permission from this blog's author and owner is strictly prohibited. Excerpts and links may be used, provided that full and clear credit is given to Anna Bajor-Ciciliati with appropriate and specific direction to the original content.